Commercial & Industrial Air Filters in Seattle
---
Air Filter Replacement Services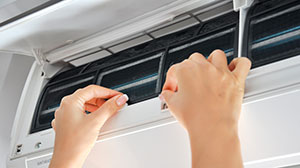 Since 1989, locally owned and operated Aaire Particle Control has been providing reliable, honest air filtration and HVAC filter service to Seattle, western Washington and the surrounding areas. We provide customers with the highest quality workmanship at highly competitive prices, while also offering fast response and unbeatable customer service. Our company is committed to professionalism, meaning that we are properly accredited and fully licensed and insured to provide complete protection and peace of mind to our clients. Whether you need commercial or industrial air filters in Seattle, Delridge, Georgetown, White Center, or Allentown, WA, there's no name in town that's more trusted or respected than Aaire Particle Control, and we always strive to live up to our strong reputation for excellence.
Here are just a few of the many reasons to trust Aaire Particle Control with your air filter replacement services:
We are a locally owned and operated air filtration service provider in Seattle, WA.
We've been in business since 1989 and have significant industry experience.
We're fully licensed and insured.
We specialize in services for commercial and industrial clients.
Our prices are always fair and affordable.
At Aaire Particle Control, we pride ourselves on our ability to give our clients highly personalized HVAC and air filter replacement services, as well as very high-quality workmanship that they can rely on for years to come. Air filtration plays a key role in keeping homes, businesses and industrial spaces safe and healthy, and if you need commercial air filters in Seattle, WA, you can count on us for professional service from start to finish. Providing affordable air filtration services and HVAC services to Seattle, WA and the surrounding areas including:
King County, WA
Bellevue, WA
Renton, WA
Kent, WA
All of Western Washington
By appointment only. We are more than happy to schedule a time outside of our posted business hours, for your convenience!
---
Call Us Today
Reach out to Aaire Particle Control today to learn more about our air filtration and HVAC filter services!